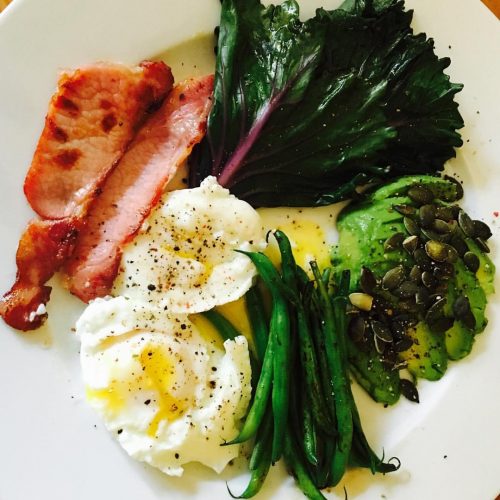 BIG Breakfast
Yummy poached eggs are easier to make than you think. The most important think is that the eggs are of good quality and that they are fresh.
Ingredients
2

Eggs

2

slices

bacon

1/2

Avocado

5

kale leaves

1

handful

green beans

1

tbsp

pumpkin seeds

salt

to taste

pepper

to taste
Instructions
Put the green beans and kale on to simmer with a pinch of salt

Meanwhile yourself a wide, deep pan and fill it with boiling water from the kettle. Bring it to a light simmer over a medium heat add a pich of salt.

Grill bacon on a med to high heat for aprox 4 mins each side or as crispy as you like it.

Crack one of your eggs into a cup and gently pour it into the water in one fluid movement. Repeat with the rest of the eggs. Depending on your pan, a really soft poached egg should take around 2 minutes and a soft to firm one will need 4 minutes (it depends on the size of the eggs). To check whether they're done, remove one carefully from the pan with a slotted spoon and give it a gentle push with a teaspoon. If it feels too soft, put it back and give the eggs a minute or two more in the water to firm up.

When they're ready, remove them to some kitchen paper to dry off and a sprinkle of sea salt and freshly ground black pepper.

Remove veggies and strain to serve slice avocado and sprinkle pumpkin seeds over the top.