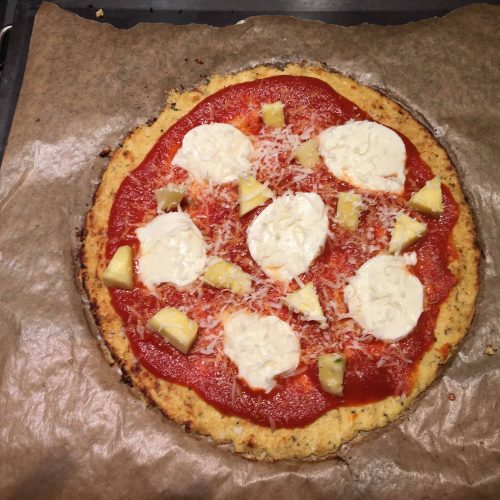 Cauliflower pizza magic
Another great use of cauliflower and it was actually quite easy to make. If you haven't tried a cauliflower pizza crust recipe yet, you must, it doesn't taste like cauliflower at all.
Ingredients
1

cup

riced

then cooked cauliflower

1/2

cup

grated parmesan cheese

Choose vegan cheese substitute

1

egg

beaten

1

tsp

italian seasonings

1/2

tsp

crushed garlic

1/2

tsp

salt

1/2

cup

shredded mozzarella cheese

choose vegan cheese subsitute

pizza sauce & additional toppings of your choice
Instructions
Cut florets into chunks and pulse in a food processor until it looks like rice. Do not over process, you don't want mush.

Microwave the riced cauliflower in a bowl for 5-8 minutes depending on your microwave. . After microwaving, transfer riced cauliflower to a clean tea towel and remove excess water needs to be cooled before you do this. This drying process is important!

One large head of cauliflower will make 3 cups of riced cauliflower.

Preheat oven to 450 degrees. Spray a cooking sheet with non-stick cooking spray.

In a medium bowl, combine 1 cup riced, cooked cauliflower, 1 egg and your parmesan cheese. Next, add Italian seasonings, crushed garlic and salt. Place your "dough" on the cooking sheet and pat into a round pizza base. Be sure not to press it too thin as it's easy to create holes.

Bake your dough at 450 degrees for 15 minutes.

Remove from oven. Add sauce, mozzarella cheese, and your favorite pre-cooked toppings to your pizza. Place pizza under grill until cheese is melted, be sure to keep an eye on it!

For the tomato sauce please see tomato base for italian dishes.