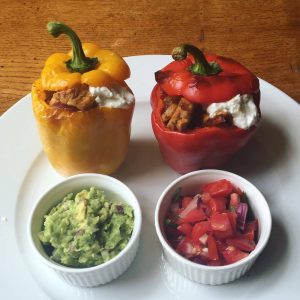 Chicken fajitas
I absolutely love mexican food its full of flavor and very filling. This no carb version is amazing and I'm sure you will love it as much a we do.
Ingredients
1

large red bell pepper

diced

6

large yellow bell pepper

cut off tops and remove seeds- these are instead of tortillas

1

large green bell pepper

diced

5

raw

boneless, skinless chicken breasts, sliced thin lengthwise (about 7 oz. each)

1

slice

large red onion

thin

1

tablespoon

Garlic powder

1

tablespoon

onion powder

1

tablespoon

chili powder

1

tablespoon

ground cumin

1

tablespoon

olive oil

1

pot of 0% total greek yogurt

1

large ripe tomato

3

avocado very ripe

juice 1 large lime

leaves

handful coriander

and stalks chopped, plus a few leaves, roughly chopped, to serve

1

small red onion

finely chopped

1

chilli

red or green, deseeded and finely chopped

250

g

ripe vine tomatoes

1

small red onion

1

red chilli

2

tbsp

chopped fresh coriander
Instructions
Put the entire peppers in place of tortillas in the oven for 25/30 mins they need to be cooked through ready for the filling. I put tops i just put in for the last 15 mins so they don't fall apart.

Make the guacamole: use a large knife to pulverise the tomato to a pulp on a board, then tip into a bowl. Halve and stone the avocados (saving a stone) and use a spoon to scoop out the flesh into the bowl with the tomato.

Tip all the other ingredients into the bowl, then season with salt and pepper. Use a whisk to roughly mash everything together. If not serving straight away, sit a stone in the guacamole (this helps to stop it going brown), cover with cling film and chill until needed. Scatter with the coriander.

Make the salsa: Halve the tomatoes, then squeeze out and discard the seeds – this seems a bit wasteful, but it really intensifies the flavour of the salsa. Finely chop the tomato flesh and onion. Halve, seed and finely chop the chilli. Mix the tomato, onion and chilli in a bowl with the coriander and some salt and pepper. At this point the salsa can be covered and chilled for up to 2 days, but bring it back to room temperature before serving.

Saute' everything in a large pan, adding the spices about half way through.

Fill your peppers and serve topped with salsa and guacamole and Greek yogurt.