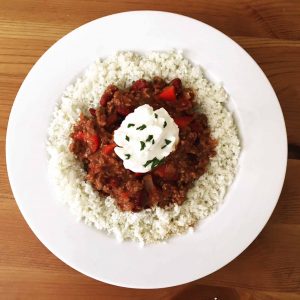 Chilli with cauliflower rice
Delicious healthy low carb version of a mexican favorite of mine.
Ingredients
500g

Lean mince meat

Source your meat from a farmers market or butcher where its organic and free range.

1

tin

Tomatoes

1

large

Onion

2

Red peppers

1

knorr

Beef stock jelly

1/4

tsp

Chill powder

Less of more depending on how hot you like it.

1

tablespoon

Balsamic vinegar

1

carrot

grated

1

large

Cauliflower

1

pot

Total o% Greek yogurt

1

Tablespoon

Coconut oil

1

tin

Kidney beans
Instructions
Put a wok onto heat with coconut oil the chop your onion.

Add onion to wok and cook until translucent.

Add mince meat and cook through until brown.

Now add the chilli powder, balsamic vinegar, sugar, grate carrot and tomatoes.

Boil a kettle ready to put in stock cube while this is bubbling away.

Add about half a pint of water and stock cube to the wok and leave to simmer for 10 mins.

Meanwhile chop the red peppers into small cubes.

Now add the peppers and kindney beans.

Now take your couliflower and cut of the hard stalks you dont need that part. Put the cauliflower into the food processor until it looks like white snow.

Once the chilli sauce has reduced right down you are ready to take it off the heat and put the cauliflower in the microwave for 5 mins.

Serve chilli with Greek yogurt on the side.