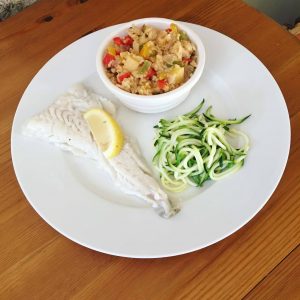 Cod with Quinoa Explosion
Cod & Quinoa with Caramelized Red Onion, Bell Peppers, pineapple and Garlic. The Quinoa can be served hot or cold I personally I like it best cold it's full of protien and flavour, an excellent meat replacement for vegetarians and vegans.
Ingredients
6

cod fillets

1

tsp

Coconut oil

1

red onion

diced

3

peppers

diced

1-2

cloves

of garlic

minced

1

cup

of quinoa

3

cups

of boling water

pineapple

1

vegtable stock cube

3

courgettes

lemon
Instructions
Heat the coconut oil in a skillet over medium heat. Add the onion and peppers; cook for 10 minutes or until the veggies are tender and golden brown.

Spiralise your courgettes.

Once the peppers and onions are tender and golden brown, add the minced garlic and stir constantly for 60 seconds.

Boil the kettle at 3 cups to the stock cube then pour combine with the vegtable and quinoa and leave to reduce and soften it will take about 15 minutes.

Meanwhile add some coconut oil t a frying pan and cook the cod for approx 3 minutes each side and put the courgettes in the microwave for about 3 mins.

Serve with a slice of lemon.