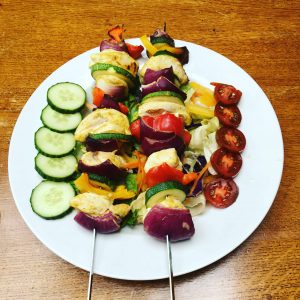 Curried Chicken Kebabs
A healthy spin in a kebab, very tasty and have to say we really enjoyed these.
Ingredients
4

ounces

large boneless

skinless chicken breasts (about 8each)

2

peppers any colour

1

red onion

1

courgette

200

ml

pot of 0% total greek yogurt

2

tbsp

curry powder

1

teaspoon

lemon juice

2

teaspoons

olive oil

1/4

cucumber

sliced

6

cherry

tomatoes

1

hanful

red cabbage

1

hanful

white cabbage
Instructions
Preheat oven to 350 degrees F., and place your kebab sticks in a pan of water to soak (You do this so they won't catch fire in the oven if you are not using metal skewers).

Chop your peppers, onions into 12 inch pieces and slice your courgette.

Chop your chicken into bite sized pieces. (Approximately 1 inch square cubes)

Place all ingredients in a bowl or zip lock bag and really need mix it up well to get even coverage of the yogurt and curry powde.

Alternate placing your peppers, onion, zucchini and chicken on your kebab sticks.

Put your Kebabs on a parchment lined cookie sheet and place in the oven.

Set your timer for 10 minutes.

When the 10 minutes is up, turn your kebabs over using an oven glove.

cook for 10-15 minutes, or until you have a nice browned bit of chicken.

Meanwhile make your salad with the white and red cabbage, tomatoes and cucumber.