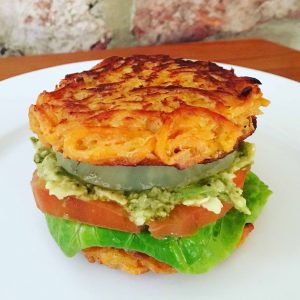 Dirty bunless vegetarian burger
I have to say the day I made this recipie it was one of the happiest days ever! It's just unbelievably good, 100% clean but so dirty 😉 and, I'm sure you will absolutely love it.
Ingredients
Two 3/4-cup ramekins

sprayed with nonstick cooking spray

1

sweet potato

peeled and ends cut flat

2

tsp

olive oil

divided

1

large egg

Pinch kosher salt

Pinch freshly ground black pepper

1

tsp

Garlic powder

1/2

avocardo

1

leaf

lettice

1

slice

beef tomato

1

slice

Onion
Instructions
Using a spiralizer, cut sweet potato into thin strands.

In a large skillet, heat 1/2 tbsp coconut oil over medium heat. Add garlic power and sweet potato and cook, stirring, for 5 to 7 minutes or until softened. Let cool to room temperature, about 15 minutes.

In a medium bowl, whisk egg. Stir in sweet potato, salt and pepper. Divide between prepared ramekins, filling each about 1 third and pressing the sweet potato down into the ramekins. Its really important not to make them too thick as they can easily fall apart if you do and they are much better crisp. cover with greaseproof paper and place a heavy can or jar on top of the wrap to weigh down the sweet potato. Refrigerate for 30 minutes.

Meanwhile start preparing your filling. Blend the avocado with 2 tsp of pesto.

Slice a tomato and a small lettice leaf ready to build your dirty burger.

Lightly coat a pan with the remaining oil and heat over medium-high heat. Remove greaseproof paper and tap ramekins to slide noodle buns onto skillet and add the onion slice. Cook, turning once, for 3 to 5 minutes per side or until golden brown on both sides and hot in the center.

Build your dirty burger, Enjoy.